• Dallas Cowboys RB Tony Pollard is the top running back handcuff in fantasy football for the 2022 NFL season.
• A.J. Dillon, Alexander Mattison, Rhamondre Stevenson and Kareem Hunt round out the top five.
• Los Angeles Chargers rookie Isaiah Spiller was only the 11th-best running back on PFF's big board, but he's likely to see close to double-digit carries per game this season if he can establish himself in a duo with Austin Ekeler.
• Click here for more PFF fantasy football rankings!
---
Injuries are a part of football, and the running back position is the most affected in fantasy football. Only three running backs started all 17 games last season, and no running back has started all 33 games over the past two seasons combined.
For most teams, at some point during the 2022 NFL season a backup running back will be handling starting duties. It's important to know how to handle these situations for fantasy football.
The following rankings assume that the 32 running backs projected to lead their teams in carries all get injured and miss the season. Here is how the 32 players who would be projected to take over as the carries leader would rank against each other. Several players on this list will already have fantasy football value this year even without injury, but we're considering only their value in the event of an injury at the top of the depth chart.
---
Tier 1: The Proven Elite Handcuffs
These running backs stand out among the rest due to both their talent and opportunity. They are among the best running backs in the NFL on a per-play basis and two of the four highest-graded running backs by PFF rushing grade over the past two seasons. Neither team invested a draft pick or free agent money on a third running back, so either player would see the vast majority of snaps if their team's starter were to get hurt. Both would rank among the top five backs every week.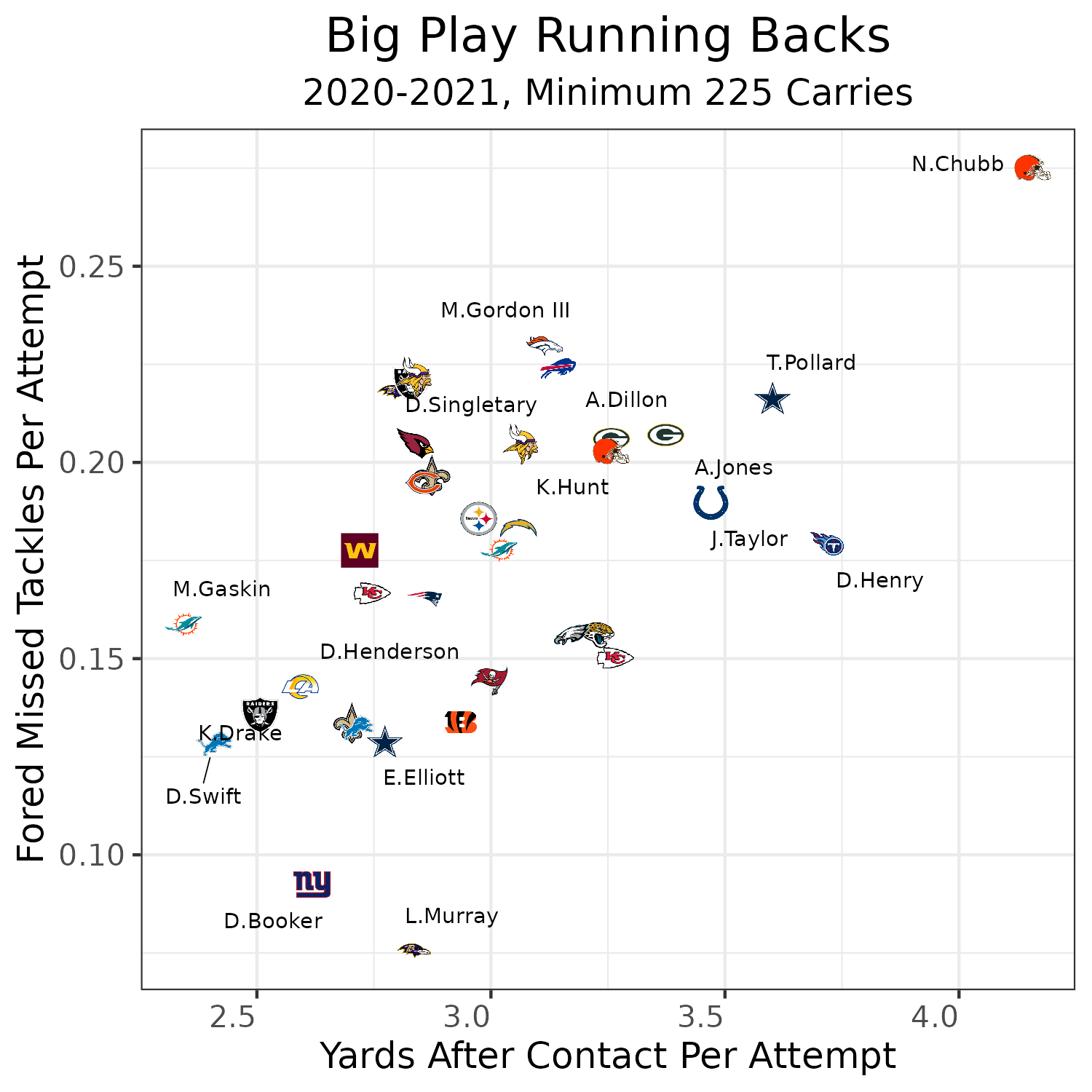 Tony Pollard finished RB28 last season despite Ezekiel Elliott playing every game last season. He put up an RB1 performance in the one game Elliott missed in 2020. A.J. Dillon was RB3 last season during a three-game stretch from Weeks 10 to 12. That included a game during which Aaron Jones suffered an injury, the following game Jones missed and the following week where Jones came back on a limited basis. Dillon was RB22 over the entire season.
---
Subscribe to PFF+ to continue reading
Already have a subscription? Sign In