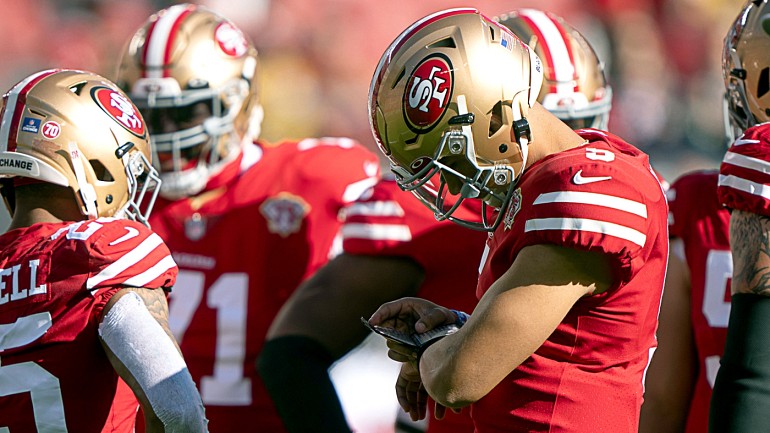 The San Francisco 49ers are trending upwards, even with reports from Santa Clara of quarterback Trey Lance having an up-and-down training camp. Still, the team is talented enough to withstand any growing pains by the second-year player and new full-time starter. Apparently, Dan Hanzus of Around the NFL knows this, and that's why Kyle Shanahan's squad has moved up one spot in NFL.com's most recent power rankings, landing at No. 4.
"It's full speed ahead for the Trey Lance era in San Francisco," wrote Hanzus. "There's likely to be some turbulence for a young passer with limited experience, but Lance has been set up for success after a rookie season spent mostly on the sidelines."
Lance started just two games last season but has been the undisputed starter for the entire offseason. San Francisco invested a lot in the 22-year-old quarterback, surrendering multiple first-round picks and more to move up and select him at No. 3 overall last year.
The team's starter of the past four-and-a-half seasons, Jimmy Garoppolo, is on his way out. The 49ers hope to trade the veteran quarterback ahead of Week 1. If no suitors come calling, a release is a possibility.
The quarterback situation hasn't been the only offseason drama on which the media has focused. In April, star wide receiver Deebo Samuel requested to be traded after contract extension discussions weren't going smoothly. That drama ended when San Francisco signed him to a three-year extension just over a week ago. That gives the young Lance a lot of offensive firepower this season.
"The Deebo Samuel drama was put to bed with a big contract extension," Hanzus continued, "while Brandon Aiyuk appears primed to make the leap as the No. 2 wide receiver. Throw in a do-everything Pro Bowler at tight end in George Kittle, a versatile backfield led by Elijah Mitchell, and, of course, arguably the league's best play caller in Kyle Shanahan, and Lance will have no excuse if he doesn't pop in his first year leading the offense."
The three teams ranked ahead of the 49ers in Hanzus' power rankings are the Buffalo Bills, Los Angeles Rams, and Tampa Bay Buccaneers. San Francisco leaped the defending AFC champion Cincinnati Bengals, who dropped to No. 5 on the list.
Nobody's perfect. Did you find a mistake in this article?
Report it.
Facebook Comments
More San Francisco 49ers News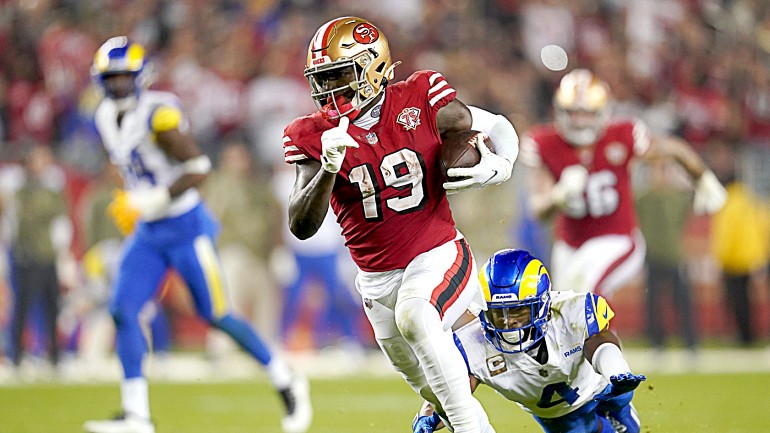 Will the 49ers sign a veteran center? Will they move Deebo Samuel to tight end? And other mailbag questions answered
On Monday, the San Francisco 49ers began padded practices. The contract extension for Deebo Samuel was also announced. It's a fun time of the year, as the team prepares to make another run for a sixth Super Bowl championship.
We opened up the 49ers mailbag and had plenty of questions to choose from. Let's respond to a handful:
Diana Kayatani: There's talk about Jimmy possibly going to the Seahawks. If and when he leaves, where should he go?
Felix Watkins: Where do you think Jimmy is going?
The world awaits news on Jimmy Garoppolo. Will he be traded or released? Where will he go? Will he be a starter or a backup? How does he get his hair to look so nice?
I wish we already had the answer to those questions. The good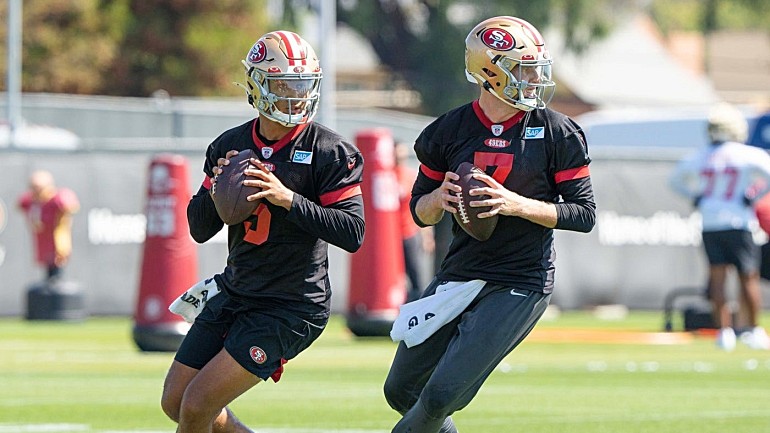 49ers backup QB Nate Sudfeld opens up on mentoring Trey Lance, says he can be a 'really great' NFL quarterback
Even though he didn't see any playing time as a third-string quarterback for the San Francisco 49ers last season, Nate Sudfeld wound up playing a more significant role than many realized when it came to the present and future fortunes of the franchise.
The 28-year-old Sudfeld signed with the 49ers last spring after spending the previous four seasons with the Philadelphia Eagles, but the odds of him seeing playing time were always long due to the fact he was behind Jimmy Garoppolo and Trey Lance in the quarterback pecking order. But Sudfeld turned out to be a valuable addition to the 49ers' quarterback room because he became an important mentor to Trey Lance.
Becoming a friend and mentor to the 49ers' future franchise quarterback isn't necessarily what Sudfeld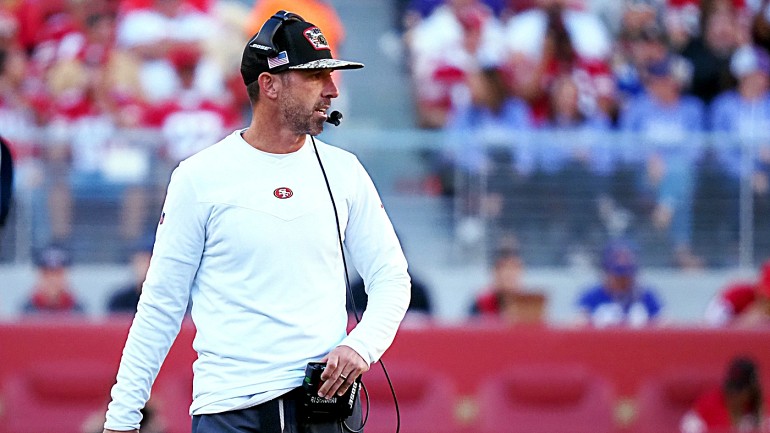 49ers Announce 2022 Bill Walsh NFL Diversity Coaching Fellows
The San Francisco 49ers head coach Kyle Shanahan today announced the team's 2022 Bill Walsh NFL Diversity Coaching Fellows – Dominique Alexander, Erik Bickerstaff, Christian LeMay, Addison Lynch, Lyle Moevao, and Miguel Reveles.
The 49ers Communications staff provided the following rundowns.
Alexander will work with the 49ers defense and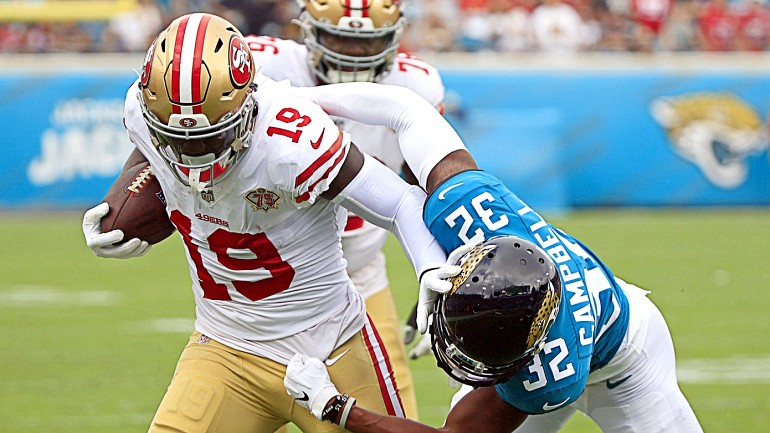 How does 49ers WR Deebo Samuel's contract rank against other NFL WRs?
By Rohan Chakravarthi
Jul 31
San Francisco 49ers receiver Deebo Samuel finally agreed to an extension with the organization, getting a three-year, $71.55 million deal worth up to $73.5 million with $58.1 million guaranteed.
The new deal now keeps Samuel with the 49ers through 2025, as he still has another year remaining on his rookie deal.
How does Samuel's deal rank against other receivers who earned extensions this offseason, especially the other fourth-year receivers who received deals as well?
Fellow fourth-year receivers A.J. Brown, D.K. Metcalf, and Terry McLaurin all signed extensions