Key events
Track cycling: There has been a worryingly huge, high-speed crash in a men's race on the track in London which several riders were involved in. Simon Brotherton, on commentary for the BBC, says an English rider ended up in the crowd. One rider is being carried off on a stretcher. Brotheron and Chris Boardman both sound very concerned as to the condition of the athletes … let's all hope they are (relatively) unscathed. No replays are being shown, which seems the right course of action, as we don't know the condition of any of the riders.
Gold for Katie Crowhurst in the women's PTVI triathlon!
Double-gold-medal joy for England as Katie Crowhurst, along with her guide Jessica Fullagar, brings home the gold medal in a time of 1hr 10min 32secs.
It's silver for Chloe MacCombe of Northern Ireland and bronze for Jessica Tuomela of Canada.
Top five in the women's event:
1) Katie Crowhurst (ENG) 1hr 10min 32secs
2) Chloe MacCombe (NIR) 1hr 14min 39secs
3) Jessica Tuomela (CAN) 1hr 15min 12secs
4) Judith MacCombe (NIR) 1hr 18min 30secs
5) Linsay Engelbrecht (RSA) 1hr 23min 27secs
Men's PTVI – the top five:
1) Dave Ellis (ENG) 57min 38secs
2) Sam Harding (AUS) 1min 02.09secs
3) Jonathan Goerlach (AUS) 1min 05.21secs
4) Rhys Jones (WAL) 1min 06.02secs
5) Oscar Kelly (ENG) 1min 06.38secs
Women's T20 cricket: Pakistan are 49-1 against India at Edgbaston after eight overs: Muneeba 31 not out, Maroof 17 not out. So they are looking well set to post a decent total, especially if this pair can continue, having already added 48 for the second wicket.
Gold for Dave Ellis in the men's PTVI triathlon!
Ellis suffered bad luck at the Paralympics in Tokyo last year when he chain slipped off, or broke, on the bike leg and ruled him out of medal contention.
No such bad luck for him and his guide Luke Pollard. They have won gold for England.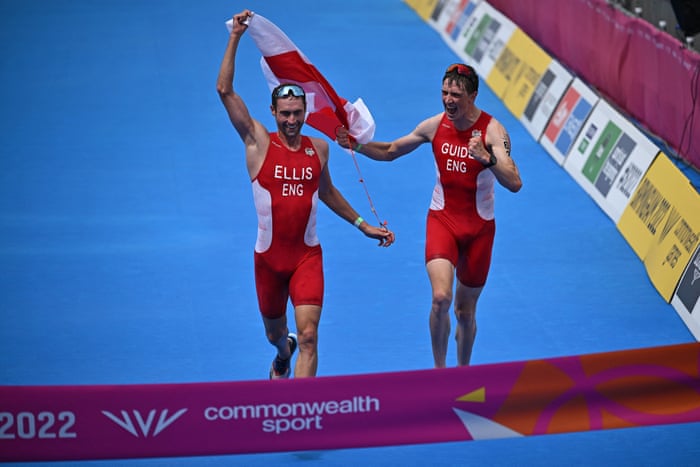 This is our report from Tokyo last year, with the details of Ellis's misfortune halfway down:
Men's hockey: Australia lead 6-0 against Scotland in the third quarter of their Pool A match.
PTVI (Visually Impaired Classification) triathlon: David Ellis of England leads the way in the men's event: Iain Dawson second, Jonathan Goerlach third. Ellis is halfway through the run so is closing in on the gold medal …
Meanwhile in the women's final, Crowhurst of England goes into the transition from bike to run first, with a 43secs lead over Jessica Tuomela of Canada.
Jake Jarman speaks to the BBC: "Honestly, I don't usually get like it, but I got a little bit emotional to be honest, it's quite overwhelming, with all the support from the crowd. I couldn't have asked for a better experience or a better competition and you know, competing with James, my man, he's been through it, and it's inspirational to watch him get through, especially those last two pieces, I don't know how he did it …"
Jarman and his teammate James Hall put an arm around one another during the interview and the bond between them is clear to see: Hall is asked how he got through the competition having sustained an injury on his landing from the vault.
"Yeah, honestly, looking back I don't know how I did it, but I know how I did it – this guy [Jarman], straight away, he helped me, straight away he was there and it gets me really emotional. There is no way in the gym at home or in any other competition I could have done it, but everyone here lifted me. The pain was immense.
"He's the champion … he's my hero," Hall says of Jarman, and continues: "He said to me this morning, 'I'm going to do three and a half on vault'. Which is the hardest vault in the world. And I thought, this guy … they don't make them like him. He's only 20 and he's got so much more to come."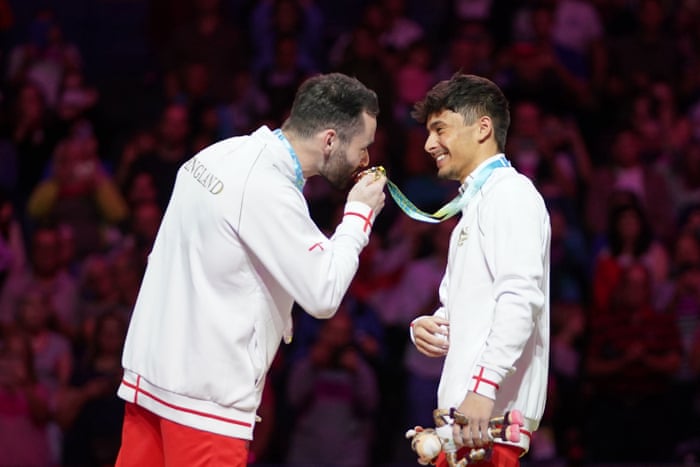 Women's T20 cricket: They are under way at Edgbaston after a rain delay, and Pakistan are batting have won the toss and opted to post a total for India to chase.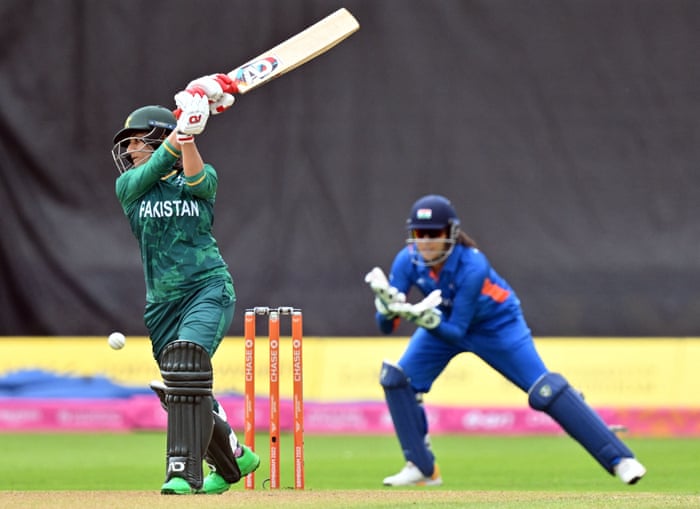 Swimming: The current session in the pool takes in the men's 200m butterfly heats, women's 200m breaststroke heats, and men's 50m backstroke heats.
In the men's 200m butterfly, Mason Wilby, James Guy and Jay Lelliott of England are all safely through.
In the women's 200m breaststroke, Mollie Renshaw of England won heat one, and Abbie Wood came third in heat two to qualify, too.
Gold for Jeremy Lalrinnunga in the 67kg men's weightlifting!
The 19-year-old Jeremy Lalrinnunga, of India, claims gold in the men's 67kg. It's a Games record of 300kg across the Snatch and Clean & Jerk – all the more impressive as it appears he injured him back during on the of clean & jerk attempts. Vaipave Ioane (Samoa) was second, Edidiong Umoafia (Nigeria) third.
Men's all-around gymnastics:
The final top five is as follows –
1) Jake Jarman (England) 83.450
2) James Hall (England) 82.900
3) Marios Georgiou (Cyprus) 81.750
4) Felix Dolci (Canada) 81.550
5) Pavel Karnejenko (Scotland) 80.650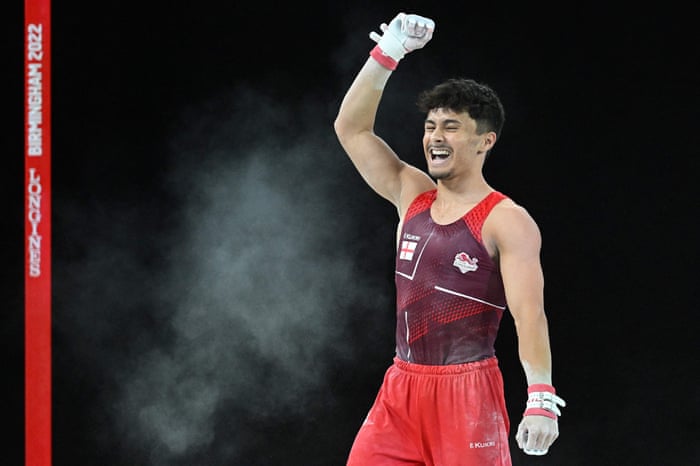 Men's hockey: Australia are now 5-0 up on Scotland in Pool A. Goals from Wickham (2), Govers, Brand and Hayward.
Gold for England's Jake Jarman in the men's all-around gymnastics!
Jarman has done it, and it's a one-two for England! James Hall wins silver. Georgiou, of Cyprus, takes bronze. We await confirmation of the final scores …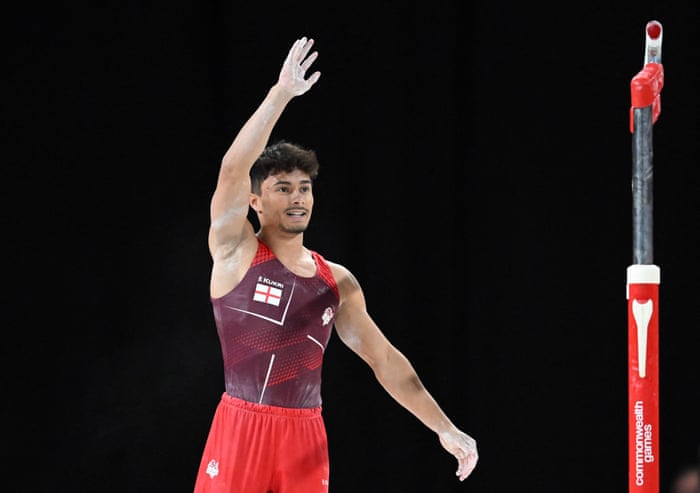 Track cycling: In the men's sprint, the quarter-finalists are now confirmed, and they are:
Paul (TTO)
Richardson (AUS)
Carlin (SCO)
Glaetzer (AUS)
Cornish (AUS)
Turnbull (ENG)
Sahrom (MAS)
Dodyk (CAN)
(MAS = Malaysia, TTO = Trinidad & Tobago)
Men's all-around gymnastics: Georgiou lands his high-bar routine and cracks a big smile and waves to the crowd. He knows he's done enough to win a medal for Cyprus, so it's mission accomplished in that sense, but what colour will the medal be?
Men's hockey: Australia v Scotland got under way at 11am UK time, and Australia currently lead 2-0 thanks to a goals by Blake Govers and Timothy Brand.
Australia seem to be crushing everyone in their path at these Games, it's almost as if they are, collectively, a highly-motivated and sports-mad nation.
Women's cricket: In Edgbaston, there's the small matter of India v Pakistan. However, the start has been delayed from 11am UK time and the match is scheduled to begin at 11.25am.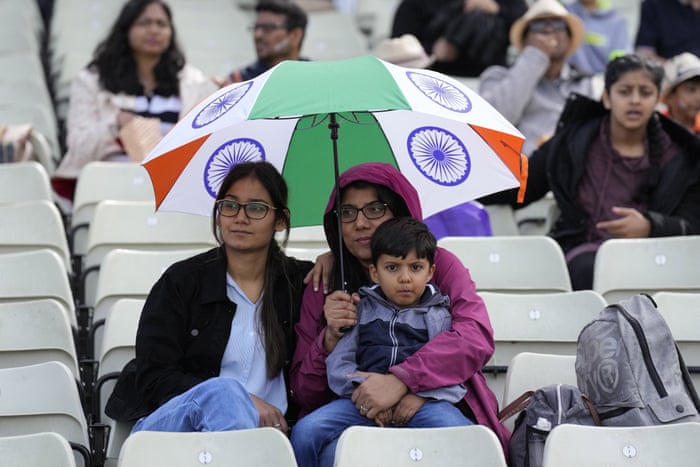 Men's all-around gymnastics:
With one piece of apparatus to go, the high bar, this is the top three in the final:
1) Jarman (England) 70.050
2) Hall (England) 69.300
3) Georgiou (Cyprus) 68.200
England v Germany, 5pm, Wembley. Excited? You should be … Daniel Harris is live-blogging the buildup here:
Men's all-around gymnastics: It's a score of 14.100 for Jarman on the bars. Hall is now second, .75pts behind, with Marios Georgiou in third.
Men's all-around gymnastics: Jake Jarman of England executes a classy routine on the bars and nails an excellent dismount … that should be enough to keep him in the gold-medal position. He exhales deeply, seemingly with a bit of relief that another discipline has been negotiated.
News stories from yesterday, just in case you missed anything on a packed second day:
Men's all-around gymnastics: James Hall nails a very good routine on the horizontal bar and scores 14.5 from the judges. Can he get a medal?
Track cycling: In the men's tandem B sprint Neil Fachie, already one of Scotland's heroes at these Games, sets the fastest time in the heats and moves into the semi-finals, clocking 9.807secs.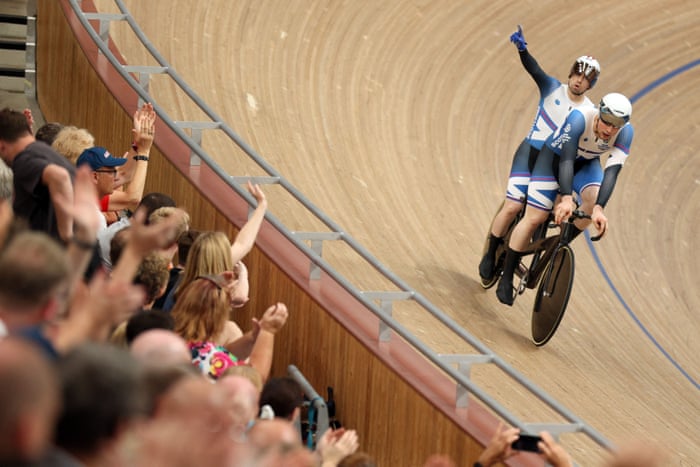 Men's all-around gymnastics: On pundit duty for the BBC, Max Whitlock is shedding light on Jake Jarman's vault that, er, vaulted him to the top of the leaderboard.
"To put it into perspective there'll be very very few, if any [athletes] doing this vault at the moment," says Whitlock. "That's a three-and-a-half twist and with a tiny step to finish … it's crazy, just crazy, he'll be so happy with that."
Whitlock and the presenters go on to say that Jarman has the potential to be Olympic champion in the discipline.
Track cycling: British Cycling have just issued an update following Joe Trueman's heavy crash yesterday, in which Matthew Glaetzer of Australia was also injured.
Truman, who was competing for England, has a broken collarbone and concussion.
Men's all-around gymnastics: On the parallel bars, Karnejenko of Scotland sustains a couple of deductions from the judges – he scores 13.4 and it's enough to move back into second place, ahead of England's James Hall. Jarman leads overall, .95pts ahead of the chasing pack.
Men's all-around gymnastics: After three rotations (out of five) Pavel Karnejenko of Scotland was leading the final. But Jake Jarman of England just nailed a fantastic landing to move into the overall lead. All to play for …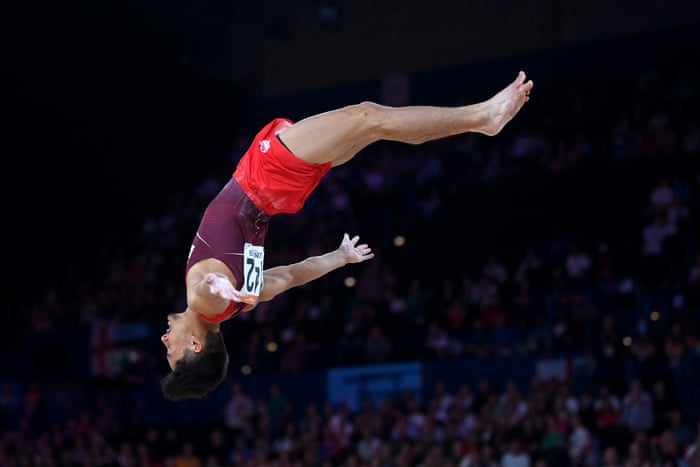 Hello everyone. Ready for Commonwealth Games day three? The sport keeps on coming, and in fact athletes from Scotland and England already look to be heading for medals in the men's all-around gymnastics final …
There's lawn bowls, hockey, weightlifting, table tennis, track cycling, rugby sevens, cricket, triathlon, boxing, squash coming up today, to name but a few.
Here we go for day three, and I'll be focusing on the end of the men's all-around gymnastics for the time being, plus bringing you up to speed on our coverage from yesterday. There may also be the odd mention for a football match taking place at Wembley at 5pm.