Key events
The match was another glimpse into an exciting future for England. Two 17-year-olds, Alice Capsey and the debutant Freya Kemp, were especially impressive. Capsey, promoted to No3, hit four consecutive boundaries in a cameo of 25 from 17 deliveries, and then Kemp bowled nervelessly to take two for 18 from three overs.
Sophie Ecclestone was also terrific: she hammered 33 from 12 balls and picked up a couple of wickets. At the age of 23, she's one of England's senior players.
WICKET! 20th over: South Africa 138-6 (Tryon b Ecclestone 14) Sophie Ecclestone bowls Chloe Tryon with the last ball of the match, and indeed the series. It completes another impressive performance from this vibrant England side, who have beaten South Africa 14-2 in the multiformat series.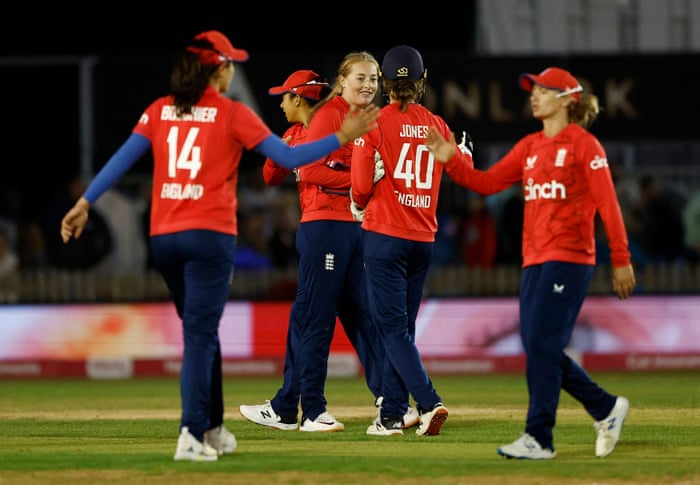 19th over: South Africa 129-5 (Tryon 7, Tucker 5) An attempted slower ball from Wong flies down the leg side for four wides, and then Tryon crashes a one-bounce four through midwicket. Wong her spell ends with slightly unjust figures of 4-0-40-1; it's all part of the learning curve.
18th over: South Africa 116-5 (Tryon 1, Tucker 4) A misfield at extra cover gives Tucker a boundary off Kemp's last ball. Even so, her figures are the stuff of dreams on debut: 3-0-18-2.
WICKET! South Africa 111-5 (Brits c Ecclestone b Kemp 59)
A second wicket for Freya Kemp! Brits chipped a slower ball towards long on, where Ecclestone took an accomplished running catch. Kemp's composure and confidence, especially in her use of the slower ball, have been so impressive.
17th over: South Africa 109-4 (Brits 57, Tryon 0) The new batter Chloe Tryon is a brilliant hitter, but 68 from 18 balls is beyond even her.
WICKET! South Africa 109-4 (du Preez c Capsey b Glenn 15)
A wicket for Sarah Glenn. Mignon du Preez, who'd clipped the previous ball nicely for four, slapped a short one straight to Alice Capsey on the edge of the circle.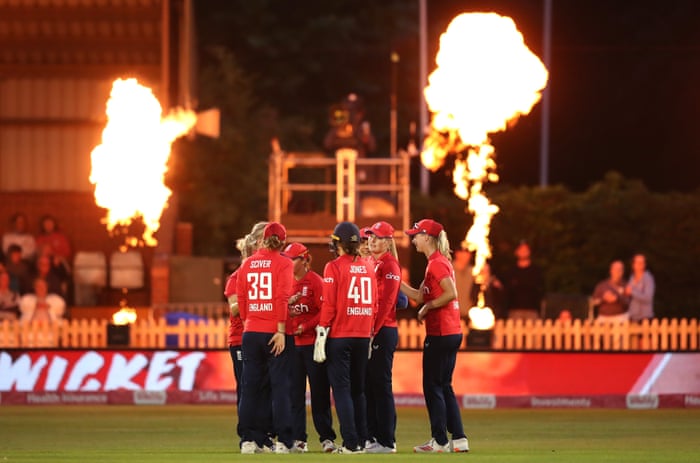 16th over: South Africa 102-3 (Brits 56, du Preez 9) The match and the series are petering out. Brits pulls Sciver through Glenn at short third for a couple, though it was more a nasty bounce than a misfield. It's another boundaryless over, and South Africa need 75 from 24 balls.
15th over: South Africa 98-3 (Brits 52, du Preez 8) Brits drive Wong for a single to reach a good half-century from 48 balls, and then du Preez belts a boundary past mid-on.
Wong is so exciting to watch but there will always be days when pace bowlers are expensive. This is one of them: despite bowling pretty well, she has figures of 3-0-28-1.
14th over: South Africa 88-3 (Brits 49, du Preez 2)
WICKET! South Africa 84-3 (Wolvaardt LBW b Ecclestone 13)
A classic left-arm spinner's dismissal. Wolvaardt misses a sweep at a ball from Ecclestone that straightens to hit her in front of middle stump. She reviewed the decision but it looked plumb, and replays confirmed as much.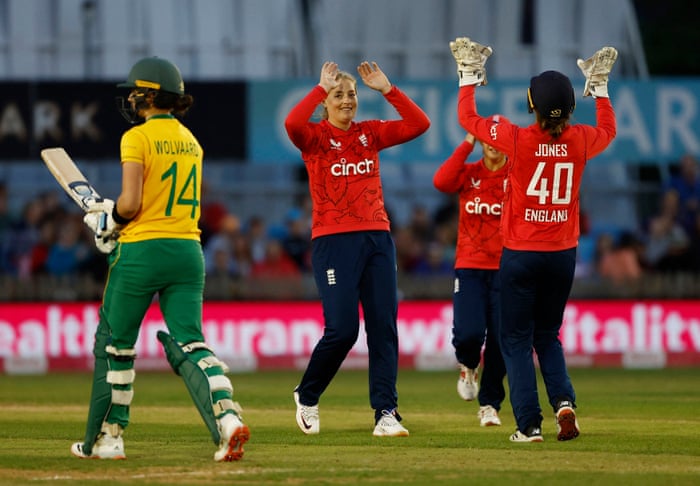 13th over: South Africa 84-2 (Brits 47, Wolvaardt 13)
12th over: South Africa 75-2 (Brits 46, Wolvaardt 5) One 17-year-old replaces another, with Alice Capsey coming on for Kemp. It's another good over, yielding only four singles for South Africa. They need snookers, aka 102 from 48 balls.
11th over: South Africa 71-2 (Brits 44, Wolvaardt 3) Glenn almost skids one through Brits, who just manages to underedge a sweep for a single. Four from the over. The required rate is getting out of control for South Africa, who have only managed one boundary since the Powerplay.
10th over: South Africa 67-2 (Brits 42, Wolvaardt 1) Nat Sciver brings herself into the attack, and she almost gets a wicket when Brits' leading edge falls just short of Dunkley, charging in from the cover boundary. The ball bounces through her and away for four.
That's drinks. South Africa need 110 from 60 balls. With that, good luck.
9th over: South Africa 57-2 (Brits 35, Wolvaardt 0) Freya Kemp is barely 17 years old, and she already has her first wicket in international cricket. What were you doing at that age?
WICKET! South Africa 57-2 (Bosch st Jones b Kemp 17)
Freya Kemp gets her first wicket for England! She has Amy Jones to thank for a quite brilliant stumping when Anneke Bosch was beaten by a short ball angled across her. But it was also a terrific over from Kemp, full of variations in pace, trajectory and angle.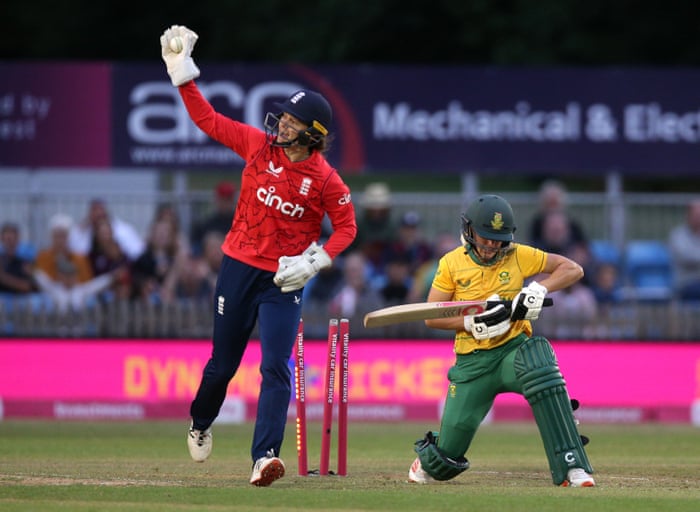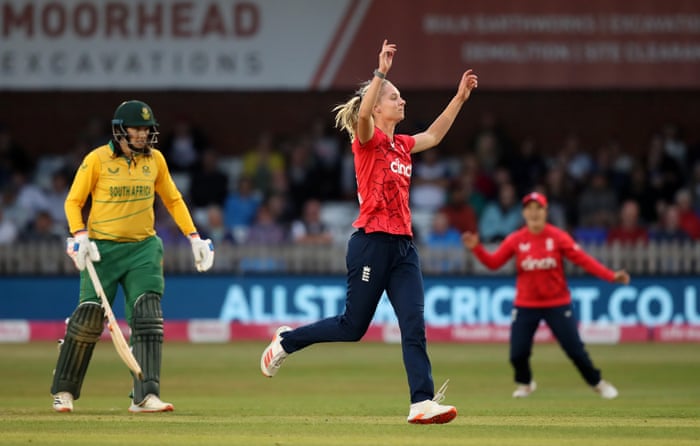 8th over: South Africa 54-1 (Bosch 16, Brits 33) After another boundaryless over, this time from Ecclestone, the required rate is indeed above 10. England's bowlers are doing an efficient job here.
7th over: South Africa 48-1 (Bosch 15, Brits 29) The legspinner Sarah Glenn comes into the attack. Her first ball goes straight through Brits and bounces right over the top of middle stump. No wicket, but a really good first over – only four from it, and the required rate is about to go above 10.
6th over: South Africa 44-1 (Bosch 13, Brits 28) Brits continues to pepper the boundary, chipping Brunt confidently over mid-on. It's the start of an eventful over that includes a big LBW appeal (outside the line) and a bouncer that beats Brits' hook and is beautifully taken by Jones, who is standing up to the stumps.
5th over: South Africa 39-1 (Bosch 13, Brits 23) Brits is beaten for pace by consecutive deliveries from Wong. The first takes a thick edge and races away for four; the second goes past the bat and through to Jones.
Brits drives a low full toss whence it came for four and then top edges a pull that goes through the hands of the diving Kemp at deep backward square. The ball runs to the boundary, which makes it an expensive over – 14 from it. That's harsh on Wong, who induced at least three false strokes.
4th over: South Africa 25-1 (Bosch 13, Brits 10) Sophie Ecclestone, who belted 33 not out from only 12 balls, is into the attack. Brits comes down the track to drive stylishly over mid-on for a one-bounce four.
The over ends with a run-out review, but Brits was safely home.
3rd over: South Africa 19-1 (Bosch 12, Brits 5) The 17-year-old debutant Freya Kemp, a talented left-arm seamer and lower-order hitter, comes into the attack. Imagine her internal monologue right now. I suppose in the year 2046 it will be available on the red button.
Bosch drags a boundary over midwicket, though it wasn't a bad delivery and there are no signs of any first-over nerves. And Kemp almost takes her first wicket when Brits mistimes a drive that just evades Brunt running back from mid-off.
2nd over: South Africa 11-1 (Bosch 7, Brits 2) Katherine Brunt, who made her England debut when Issy Wong was two years old, shares the new ball. Bosch and Brits both steer singles to third, and then Bosch back cuts the first boundary of the innings. Nicely done.
1st over: South Africa 5-1 (Bosch 2, Brits 1) We are going to have all sorts of fun watching Issy Wong over the next decade. She almost gets a second wicket when Bosch edges wide of slip for a single.
WICKET! South Africa 3-1 (Goodall b Wong 2)
What a jaffa from Issy Wong! She has cleaned up the dangerous Lara Goodall with the fourth ball of the innings. It was a full-length inswinger that beat Goodall all ends up and pegged back the middle stump.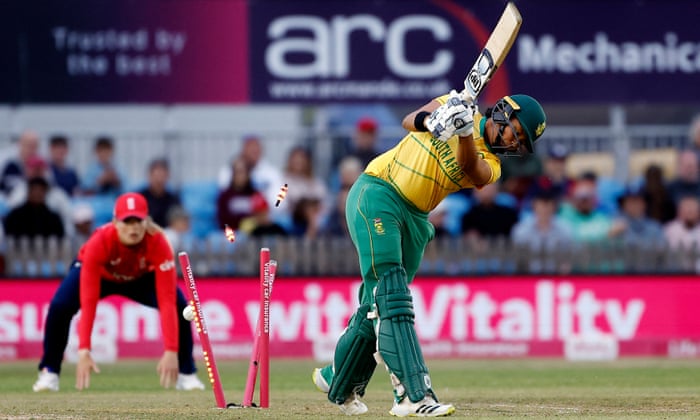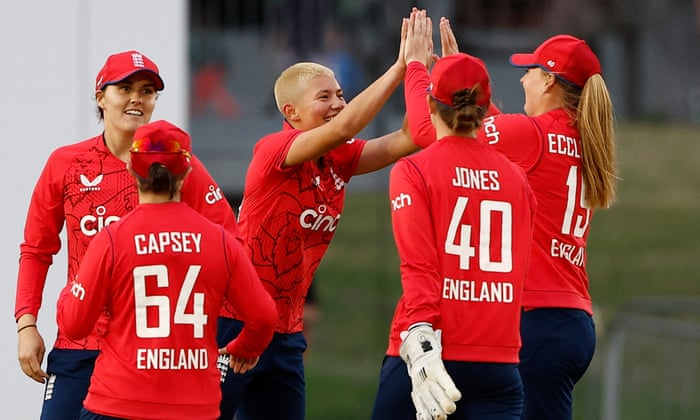 South Africa need 177 to win after another punishing batting display from England. It would be a record chase for them, and the third highest in WT2oI history.
20th over: England 176-6 (Brunt 8, Ecclestone 33) Sophie Ecclestone has smashed 26 off the final over! It was a nightmare for Masabata Klaas, starting with a wide full toss that was sliced over cover for four. The next ball slithered under short fine leg for another boundary, and then Ecclestone smacked a huge six over midwicket.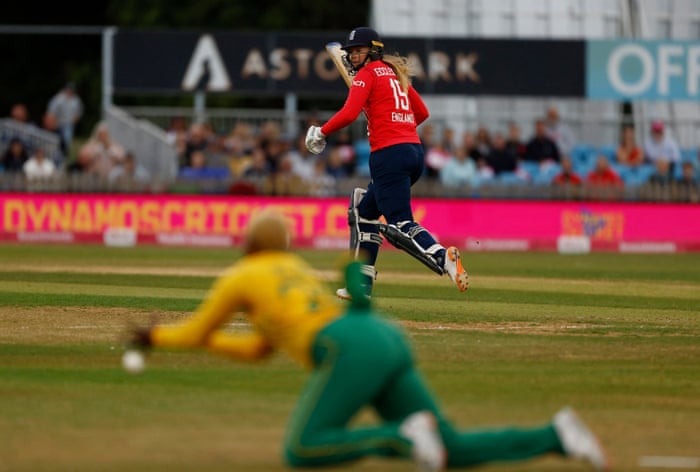 Ecclestone square drove the penultimate ball for four, and finished the innings in style with a monstrous pick up over square leg. Six more, and she finishes with 33 off just 12 balls. Poor Klaas has X-rated figures of 4-0-62-1.
19th over: England 150-6 (Brunt 8, Ecclestone 7) The captain Tryon saves two runs with a spectacular swooping stop at long-off. There's nothing anyone can do when Ecclestone launches the next ball, a slower one, over midwicket for four.
18th over: England 141-6 (Brunt 8, Ecclestone 0) Brunt scrunches a cover drive for four to complete an expensive over, even with the wicket. Thirteen from it, and Klaas hoofs the turf in disgust.
WICKET! England 137-6 (Jones c Brits b Klaas 28)
Jones hammers Klaas for two boundaries in three balls but falls looking for another. She pulled straight to deep square leg, where Tazmin Brits took a comfortable catch. That was an excellent, hard-hitting cameo from Jones: 28 from 18 balls.