(KMAland) — Two state-qualifying volleyball teams from Nebraska are the next squads highlighted on KMA Sports' Top 50 Team Countdown. 
38. Syracuse Volleyball
The Rockets entered 2021 with the hopes of returning to the Class C1 State Tournament, which they did. 
Coach Courtney VanGroningen's bunch posted a 28-2 campaign last fall. 
"It's been great and a really fun year," VanGroningen told KMA Sports. "The girls set goals, and it was awesome because they met every single goal. They've won all their home games, they won conference, they won the district final and this was the last goal to reach. They've taken it one step at a time."
The Rockets soared to a 15-0 start and dominated Nebraska Capitol Conference action. Syracuse climbed in the rankings as the wins piled up, but they stayed grounded. 
"I haven't heard any of the girls talking about rankings or wins," Vangroningen said. "We talk about beating the teams we should beat and being consistent no matter who is across the net."
The Rockets swept Conestoga and Ashland-Greenwood in subdistrict action before punching their ticket to state with a three-set win over Mitchell in a district final. The district final ensured the Rockets' senior-heavy squad a date in Lincoln.
Senior Lindsey Moss was a force with 4.2 kills per set and a .302 hitting efficiency. Sophomore Delainey Cast added 3.4 kills per set and senior Lily Vollertsen is right behind her with 3.3 winners on average.
Another senior, Kennedy Stanley, has expertly run the Rockets offense with 11.3 assists per set, and senior Shayla Thompson tops the team with 3.0 digs per set. Sophomore Kadyn Sisco has provided a steady block with a team-high 70 swats on the season. Cassidy and Klayre Roberts fill out a strong senior class.
"We have six seniors and each play a huge role," VanGroningen said. "We have a variety of upperclassmen and lower classmen that all do a great job."
Syracuse's season ended with a three-set loss to Columbus Lakeview in a state quarterfinal. 
37. Elmwood-Murdock Volleyball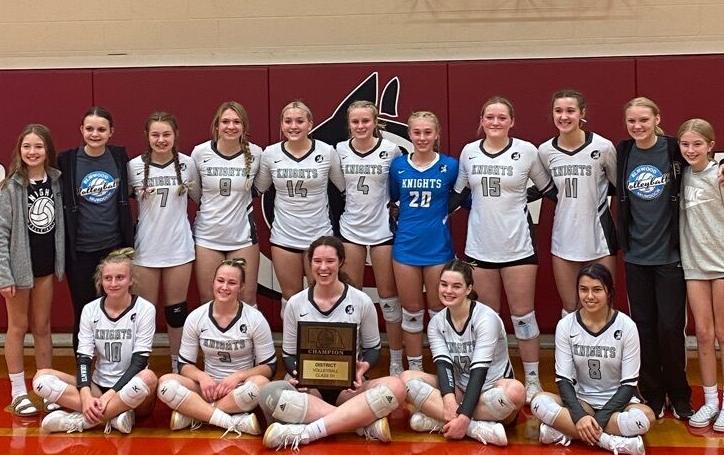 Aside from Lakeview, Elmwood-Murdock was the only team to defeat Syracuse in 2021. 
The Knights didn't shy away from a tough schedule, with a 21-8 regular-season record. Regardless of their ups and downs, Coach Nichole Justesen's team tried to stay to true to their motto — commit, focus, finish.
Justesen says the camaraderie on her team was evident.
"The biggest strength is that they are family," she said. "They really bonded together, and there's a unity on the team."
The Knights leaned on their camaraderie to qualify for state with a district final win over Alma. The district title came after a loss to Archbishop Bergan in subdistrict action. 
"Before we entered subdistricts, we knew it was going to be tough," Justesen said. "We knew we didn't execute like we needed to against (Bergan). They did exactly what we scouted them to do, but we just didn't execute. We had a few mental breakdowns, and when you look at the stats, it was the serving that really hurt us in the outcome of the game."
Kansas State commit Brenna Schmidt led Elmwood-Murdock's lineup throughout the season with 5.5 kills per set and a .361 efficiency, and Bailey Frahm (2.1 KPS), Lexi Bacon (1.7 KPS) contributed to the attack. Laney Frahm and Sela Rikli set up the fierce trio with 5.0 and 4.2 assists per set, respectively. 
"(Schmidt) is a phenomenal player," Justesen said. "She reads the ball really well. (Bailey Frahm) also reads the ball really well. We set our middles a lot so they are in movement a lot. They've learned to work in and out of system as far as where to place the ball."
The Knights upset Mead in a thrilling five-set state quarterfinal behind 30 kills from Schmidt. However, they lost to Archbishop Bergan in a five-set semifinal and finished fourth in Class D1 after a four-set loss to Nebraska Christian. 
Top 50 Team Countdown 
50. Fremont-Mills Boys Golf
49. Sterling Girls Track 
48. Nodaway Valley/West Central Valley Boys Soccer
47. Maryville Girls Soccer
46. Tri-Center Volleyball
45. Exira-EHK Girls Basketball 
44. Clarinda Girls Cross Country
43. Treynor Girls Golf 
42. Elmwood-Murdock Girls Basketball
41. Worth County Boys Track 
40. Falls City Sacred Heart Boys Basketball
39. Maryville Boys Cross Country 
38. Syracuse Volleyball
37. Elmwood-Murdock Volleyball