(KMAland) — The second day of KMA Sports' Top 50 Team Countdown begins with the Tri-Center volleyball and Exira-EHK girls basketball teams making the list. 
46. Tri-Center Volleyball
Coach Amy Wingert's Trojans were among the many stout teams in the Western Iowa Conference, and concluded the season in Cedar Rapids. 
The Trojans compiled a 27-11 season and went 7-2 in the WIC. 
"We are feeling good," Wingert said after an early September win over Underwood. "The girls took some losses early in the season, but they've bounced back and are ready to push forward. We just have to keep pushing through and making sure we are taking care of the things we can control."
Tri-Center began their postseason push with a dominant win over Heartland Christian (25-8, 25-12, 25-11) and followed with a four-set regional quarterfinal over East Mills (25-14, 25-20, 21-25, 25-19).
Their win over East Mills came with a heavy heart after a senior student was killed in a car accident earlier in the day. 
"I was very proud of the girls to come out and play the way they did," Wingert said. "The seniors lost a classmate this morning. It's been an emotionally draining day for us."
Two days later, the Trojans punched their ticket to a regional final with win over Riverside (19-25, 25-18, 25-19) despite losing the first set. 
"I just told the girls, mini runs to five, mini runs to ten, to 15, to 20," Wingert said. "That way they are not thinking of the whole big picture at one time, and they just had to push little runs of two, three, maybe five here and there."
There wasn't any setbacks in the Trojans' regional final as they cruised to a dominant 25-16, 25-11, 25-14 sweep of Sidney en route to the state tournament for the first time since 2018. 
"It means a lot," Wingert said. "I've been at Tri-Center a lot of years, and it's been one of my goals (to get to state). I knew this group could do it."
"Our defense was unstoppable tonight," Miranda Ring said. "We were picking everything up, and then we were putting the ball away. We were finding the open shots, but the defense was amazing."
The state tournament qualification brought all kinds of emotions for senior libero Tatum Carlson. 
"I'm speechless," Carlson admitted. "I had to sit out last year (with injury), so it means a lot to finish at state. I couldn't do it without all my teammates."
The Trojans drew top-seeded and eventual champion Burlington Notre Dame in a state quarterfinal. They put up a valiant fight, but ultimately lost in four sets, 23-25, 25-17, 25-20, 25-14. 
"I'm very proud of the girls," Coach Wingert told KMA Sports after the match. "They showed what Tri-Center volleyball is about. We knew coming in they were ranked No. 1, and they won it last year. We knew we would have to fight, and I feel like the girls did that."
"We fought," Tatum Carlson said. "We came into this atmosphere, and it's not an easy task. I think we did the best we could."
Carlson led Tri-Center's defense with 432 digs while setter Miranda Ring sparked the offense with 905 assists. Ring's monster senior season brought her career assist total to over 2,000 and earned her the 2021 KMAland Setter of the Year honor. 
"I've always believed that a setter's passers and hitters determine how good a setter is," Ring humbly said of her terrific career. "One thing I like to brag about is that the kills were kind of dispersed evenly throughout the five (Tri-Center hitters). If someone was having an off night it never really hurt us."
Her twin sister, Marissa, was one of the beneficiaries of Miranda's savvy passing with with 205 kills. Mikenzie Brewer (260), Emile Sorenson (212), Preslie Arbaugh (161) and Meredith Maassen (121) also steadily contributed to Tri-Center's potent offense. 
45. Exira-EHK Girls Basketball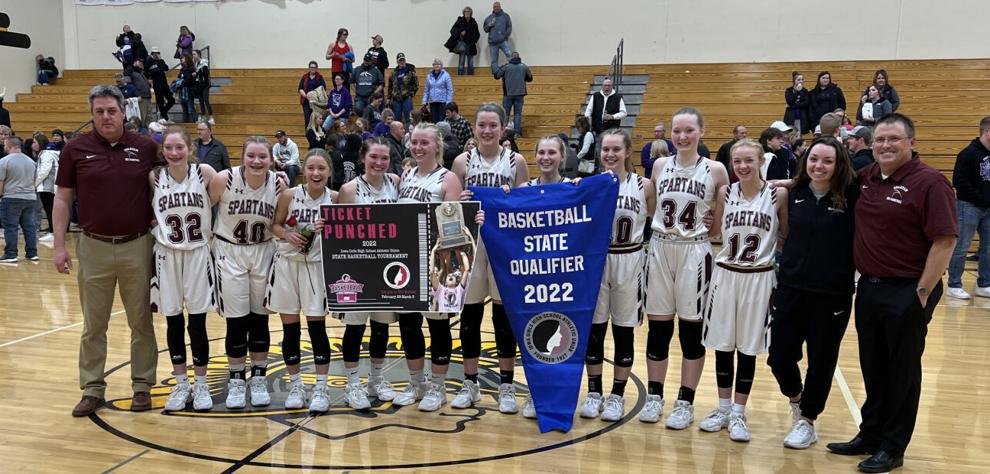 One of KMAland's most consistent girls basketball programs lived up to its billing again in the 2021-22 season.
The Exira-EHK girls basketball team opened the year on a 15-0 start, highlighted by a 60-46 win over Woodbine on January 4th on KMA. The win wasn't the prettiest for Coach Tom Petersen's squad, but they got the job done. 
"I just asked them to start playing like they were capable of," Petersen said. "The good is that it's early in the year yet, and I think that our basketball team has a lot of room for improvement, but these are all things that are correctable, so we figured out a way to pull things out."
The Spartans suffered their lone loss of the regular season on January 27th in a 58-53 bout with 2A state qualifier Panorama. They quickly rebounded and ended the regular season with five consecutive wins. 
They carried their dominant regular season into the postseason with an opening 54-40 win over Sidney. 
"The girls battled. We didn't shoot the ball well. We had a lot of open looks, but when shots don't fall, you can control what you do on the defensive side, and our girls did that," Petersen said. 
From there, the Spartans moved to a regional semifinal against East Mills, and prevailed with a 58-40 win. 
"I thought we came out with a lot more intensity than we have the last few games," Petersen said. "That's something we've been lacking pretty much all year. I thought we were more physical tonight. The refs let us play on both sides. That's all you can ask for. The effort was there, we controlled things on the defensive side."
Now, the only thing standing between the Spartans and a return trip to state was Stanton, and Exira-EHK left little doubt in their regional final win. 
The Spartans raced to a 9-0 start, led 15-7 after one, took a 31-16 lead into the break and cruised to a 63-47 win behind a lights-out shooting effort.
"It doesn't ever get old," Petersen said. "As a coach, you don't get into this for yourself. You get into this for your kids. I couldn't be happier for them."
Exira-EHK couldn't miss, burying nine 3-pointers in the first half.
"It's been an up and down year for the kids," Coach Petersen said. "Over the last two weeks, I've seen a group of girls that have really come together as one. When you do that, good things happen."
"It's an amazing feeling," said senior Mollie Rasmussen. "This is my last year. Getting back with this team is amazing. I wouldn't want to do it any other way."
Rasmussen started the Spartans' big night with a three-pointer in the early seconds, and Quinn Grubbs led the way with 25 points. 
"We knew they were a good team, but we felt we had what it took," Grubbs said. "To get what we wanted, we needed to come out strong and hard. That's what we did."
Aside from Grubbs and Rasmussen, Macy Emgarten, Shay Burmeister and Alisa Partridge stepped up for the Spartans' offense throughout the season. 
Unfortunately, the Spartans season ran into a buzzsaw in the state quarterfinal with a 50-39 loss to MMCRU, the eventual state runner-up. 
"Shots didn't fall," Grubbs said. "They stepped out there at the beginning and couldn't miss. The girls that don't usually shoot the greatest or most were hitting them, and we couldn't get much to fall."
"It just didn't go the way we wanted it to go," Rasmussen said. "It's an amazing opportunity (to play at state) with some great players I love to play with."
Top 50 Team Countdown
50. Fremont-Mills Boys Golf
49. Sterling Girls Track 
48. Nodaway Valley/West Central Valley Boys Soccer
47. Maryville Girls Soccer
46. Tri-Center Volleyball
45. Exira-EHK Girls Basketball