LLC season 2 is set to be held in India in September-October.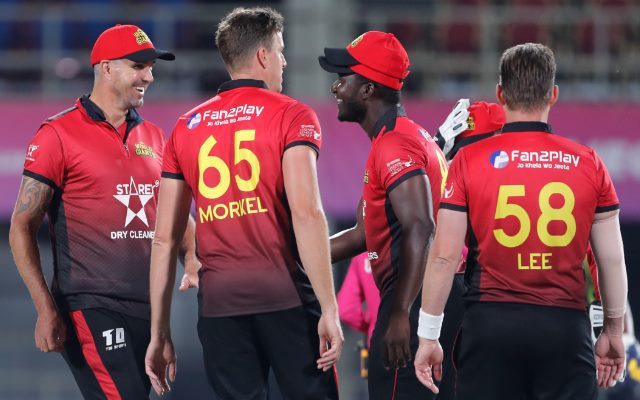 Sporting heroes take you back to the good old days, induce nostalgia, and provide something to treasure and anticipate. The Legends League Cricket offers just that. The league's first season was held in January this year in Muscat, Oman, between India Maharajas, World Giants, and the Asia Lions.
LLC is set to return in an altered format in 2022, with four teams competing in the event, which will be held in six Indian cities: Kolkata, Lucknow, Delhi, Jodhpur, Cuttack, and Rajkot, from September 17 to October 8. A draft mechanism will be used to pick the players and the respective squads. The competition will be held in India as the country is celebrating its 75th independence anniversary, and Indian fans will be present to see their favourite superstars in action.
Meanwhile, CricTracker caught up with Raman Raheja, the co-founder and CEO of the Legends League Cricket, as he opened up about the league's vision and goals, potential ICC accreditation, the possibility of participation of Pakistani players, and other things. Raheja has also been associated with the sports and entertainment sectors, including the IPL and the World Kabaddi League.
Excerpts
1. With so many cricket leagues taking place around the globe, what was the main vision of Legend's League Cricket? 
We were just talking about the cricketers, the legends we have all seen up while growing. What happens is, although they are very good, when they compete with the new boys, they are unable to offer the same kind of competitive cricket. They are forced to take retirement, or they fade into oblivion. That is what we do not want. There may be five-six years of cricket left in them. So, we come up to bring out that cricket which is left in them.
2. How hard was it to sustain the quality of cricket and the competitiveness going into the tournament?
When we had the first season, we signed up with multiple cricketers, and they all agreed to play. We were looking to having physically competitive cricket – we got Andrew Leipus as our director of sports science, who was working with these cricketers for physical fitness. The cricketers landed in Oman and attended the practice sessions and took things very seriously. The fans also loved cricket being back as they got a chance to watch their favourite stars of the past back and playing competitive cricket.
3. Are there any plans to get an ICC certification going forward? What are the long-term goals of the project? 
These are retired cricketers, and they don't need to take any permissions out of any respective boards to play cricket. So, we are not supposed to get any permissions out of BCCI or ICC, but having said that, even in season one, we wanted to adopt the best practices of the cricketing authorities, whether it was BCCI or ICC. We started with getting in touch with ICC's anticorruption unit and also had panelled umpires. And by virtue of that, we were able to get the support from the BCCI and ICC. In fact, the anti-corruption head of the ICC also visited Oman. That's how we look to carry forward.
4. Chris Gayle is yet to officially retire from international cricket, but is expected to play this season. Could you give some clarity? 
The cricketers who are retired from the international setup and not playing any international leagues, which are in the purview of the boards, are considered to be retired by us. But having said that, a few exceptions maybe taken into consideration if the cricketers are playing for any domestic leagues and not featuring in international cricket.
5. Would Pakistan players participate in the league?
That has been a challenge. We are seeking government advice on that; the inputs from the ministry of external affairs, and other necessary permissions are being sought. We would want to bring them if the government permits.
6. Is there a possibility of Pakistan cricketers coming to India for the tournament? 
There is definitely a possibility; we haven't ruled that out. We announced some of the Pakistan cricketers in the pool. But at that point, the tournament was scheduled to take place in Oman. But now that it has shifted to India, we are holding back the Pakistani cricketers till we get the necessary permissions. We would like to get the appropriate authorities to be giving us permission for the grant of visas and approvals.